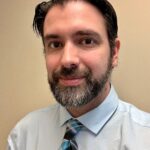 The chapter would like to congratulate Mat Clerrico on completing multiple HFMA certifications. We recently checked in with Mat to hear about his certification experience.
HFMA: Where do you work and what is your role?
Mat: I am the Director of Revenue Cycle at South County Health in Wakefield, Rhode Island.
HFMA: When did you first join HFMA?
Mat: I joined in 2021 shortly after being promoted to Director of Revenue Cycle. I joined due to recommendations by other colleagues who were already members.
HFMA: What certifications did you recently receive and why did you decide to pursue certification?
Mat: Most recently, I obtained CHFP, CSBI, and CSAF certifications. I decided to pursue each of the certifications to deepen my knowledge base and confidence in complex and sometimes arcane areas of knowledge within healthcare finance.
HFMA: Have you leveraged the knowledge you gained through the certification process in your job? If so, how?
Mat: Absolutely. I have significantly utilized the CSBI certification given the importance of data and analytics in the everyday workflow of Revenue Cycle Management. The course taught me how to be a more creative consumer and producer of analytics, adn how to use data to tell a story.
HFMA: What is your favorite thing about being a member of HFMA?
Mat: The access to the wider healthcare finance community along with the access to many training and continuous learning opportunities.
HFMA: Any advice you would offer to someone considering pursuing a certification with HFMA?
Mat: Feel free to let fascination be your guide. It's always good to pursue a certification that is directly related to your career or ambitions, but try to branch out to unrelated certifications as well. I was fascinated by the CSPPM certification training even though I haven't served as a practice manager.
HFMA: Anything else we should know about you?
Mat: One of the best parts of being in southern RI is the easy access to great beaches, I enjoy going to the beaches every spring and summer with my wife and daughter..
Congratulations, Mat, and thank you for sharing your thoughts with us.