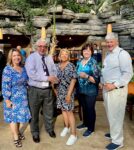 Jim Heffernan received the Fredrick C. Morgan Individual Achievement Award at the Healthcare Financial Management Association (HFMA) Annual Conference in Nashville Tennessee this week. Jim is a member and former president of the Massachusett-Rhode Island Chapter of HFMA. The Morgan Award is the highest individual award presented by the 100,000+ member Association. The MA-RI Chapter is tremendously honored that one of its own was recognized with the prestigious Morgan Award. It honors an individual for their career-long contributions to HFMA, the healthcare finance profession, and the community at large. The MA-RI Chapter nominated Jim for the award because his 40 years of HFMA service, stellar professional career, legion of mentees, lifelong community action, and commitment to social justice. These characteristics and accomplishments truly embody the ideals of the Morgan Award.
Jim's nomination included letters from colleagues who highlighted his service to HFMA, his investment in mentoring rising leaders, and a commitment to community and social justice. In the presentation of the Award, HFMA 2022-2023 Chair Aaron Crane quoted from one of the nomination letters. Roger Boucher from Bank of America and a former Chapter President spoke for many when he wrote, "The HFMA story of Jim Heffernan is one of unparalleled commitment…over decades. It is the story of countless hours of service that no one ever sees …of recruiting new leaders and volunteers…of managing one's own career with all those attendant responsibilities while still finding the time for HFMA service, and of building and strengthening one of HFMA's great chapters and regions. It is the best story of HFMA achievement, dedication and leadership."
Jim's commitme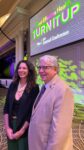 nt to community was described in a nomination letter from Debra J. Robbin, Ed.M., executive director of Jane Doe Inc., who described his service to the Jane Doe Inc. Board of Directors and efforts against domestic and sexual violence. "Jim is both thoughtful and creative, weaving our commitment to racial justice with the goal of envisioning a world without violence…As a colleague, a parent, a grandparent and partner, he exemplifies the strength of compassion and commitment to what is just and equitable. Jim inspires others to similarly strive to their full humanity by his strong sense of purpose."
Jim's healthcare career started after earning an MBA from Cornell University. Jim joined Ohio Blue Cross working on cost-effectiveness, a career-long interest. He then moved to hospital finance serving two hospital systems in Cleveland as CFO and COO. Massachusetts General Physicians Organization (MGPO), recruited Jim and during his 25-year leadership MGPO grew to 2700 physicians, 4000 employees, $1 billion+ in revenue, and $875 million in assets. He was responsible for all finance functions: revenue cycle (with a MAP winning team), physician payment, budgeting, business intelligence, compliance, and business transformation.
An active member of the Northeast Ohio HFMA Chapter, Jim was a Director and Education Chair. In Massachusetts, Jim joined the Board and progressed through all committee chairs and officer roles culminating as President in 2006-7. Significantly, Jim navigated the successful merger of the Massachusetts and Rhode Island Chapters. Jim held all the Region 1 Regional Executive roles, served on the Region 1 Conference Committee for 10+ years, and chaired a successful Region 1 conference in 2018. He served the Healthcare Financial Management Association on the Board of Directors from 2018-2022 and on its Councils and Committees.
There are severa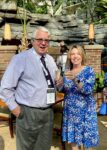 l themes that run through Jim's career – education, innovation, excellence, and servant leadership. Jim created fellowship programs and mentored many who now hold leadership positions. He is an in-demand and generous speaker presenting at chapter, regional and national meetings. Jim has a mission to educate physicians to navigate the business side of medicine and created multiple programs for physician development.
Jim's record is long and impressive, yet he is humble. He is described as generous, kind, a connector, a thought leader, an innovator, and a change agent. We are better people for knowing him. Please join with the MA-RI Chapter on congratulating Jim on his well-deserved award.