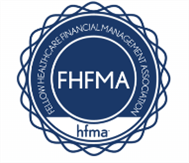 Are you interested in becoming a Fellow of HFMA (FHFMA®)? This past November, the requirements for achieving this career milestone were updated. Read below for the latest:
The FHFMA® (Fellow of HFMA) designation is an earned designation bestowed in recognition of demonstrated financial management expertise and distinguished service in the healthcare financial management industry. As part of this designation, HFMA expects Fellows to demonstrate ongoing discipline, expertise, contributions, and experience of professional learning in the field. In an effort to broaden the reach for those not previously able to meet all requirements, HFMA has included "Years of Experience" as an alternate requirement to the "Evidence of Degree" section.
The revised requirement is outlined below. More information and full Fellowship application requirement details can be found here.
Hold the Certified Healthcare Financial Professional
Minimum five (5) years professional membership in HFMA (student membership does not count toward this total)
Evidence of bachelor's or master's degree or equivalent experience (demonstrated by 10+ years of healthcare industry experience)
Letter of recommendation from an FHFMA® (active volunteer, familiar with you/your work on a professional level
Volunteer activity — demonstrate any one, or combination of the following contributions to HFMA or the industry within the three years prior to applying.
How do we verify the 10+ years of healthcare industry experience? A letter from an employer attesting to the fact or resume highlighting tenure will suffice.
(FHFMA application requirements revised and effective Nov. 1, 2022)