This week we are continuing our series profiling our chapter leaders at the Officer level. We are featuring Kim Carlozzi, President Elect. Last week we featured our president, Karen Kinsella. Read on to learn more about one of our incredible leaders!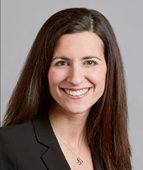 Blog: Where do you work and what do you do?
Kim: PwC, Senior Manager
Blog: How long have you been a member of HFMA?
Kim: 12 years
Blog: What is your favorite HFMA event?
Kim: I really look forward to the HFMA Women's Leadership Conferences each year.  The program is always outstanding.
Blog: What is your favorite HFMA memory?
Kim: Last year's holiday party at Trillium was especially fun. We hadn't seen each other in person in what seemed like years, and we all looked particularly silly in our ugly holiday attire.
Blog: How has HFMA impacted your career?
Kim: HFMA has expanded my network and provided valuable leadership opportunities.
Blog: What are you excited about for the year ahead with HFMA?
Kim: I am excited to work with and assist Karen Kinsella, our current President, as I prepare for my year as President.
Blog: What are some of your favorite HFMA resources that new members should be aware of and tap into?
Kim: I have two responses for this one—1) Members:  Networking is invaluable; our members are welcoming and have a wealth of knowledge to share and 2) Certifications: HFMA certifications are recognized and respected within the healthcare industry
Blog: What is a random fun fact about you?
Kim: Oddly enough, I did not learn how to ride a bicycle until I was 30.  I took lessons at a bike riding school in Somerville, earned my diploma (ha!), and the next year completed a 25-mile bike race, the "Tour de South Shore," for The McCourt Foundation.  (The McCourt Foundation raises money for neurological disorders.)