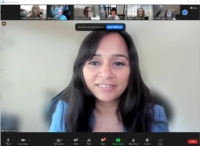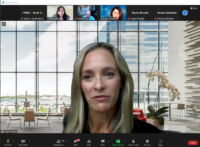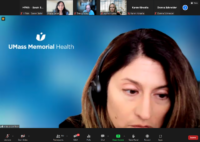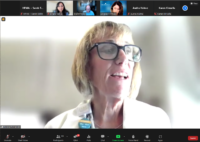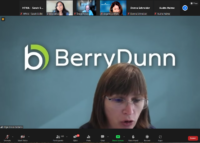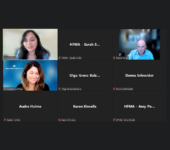 The topic of the federal No Surprises Act (NSA) and Massachusetts Patient First Act implementation resonated with HFMA members and the local healthcare community. Over 250 professionals joined for the webinar as our expert panelists, Angela Confoey and David Tolley participated in a moderated panel by Dhara Satija in a discussion providing an overview of the new requirements introduced by CMS for providers, facilities and air ambulance services providers to protect individuals from surprise medical bills and related enforcement activities.
Our expert panelist, Angela Confoey, Associate Vice President for Hospital Billing, UMass Memorial Health, and David C. Tolley, JD, Chair of the Boston Litigation and Trial Department, Latham & Watkins LLP, discussed the scope of NSA requirements and key implementation challenges from the provider perspective, as well as current enforcement activities and the landscape at the federal and state level. The event was moderated by Dhara Satija, HFMA MA-RI Compliance Committee co-chair, Director, Life Sciences and Healthcare Consulting, Paul Hastings LLP.
Here are some key takeaways discussed by the panel of experts:
While the MA Patient First Act authorizes the Massachusetts Department of Public Health (MDPH) to impose civil penalties on providers up to $2,500 for each instance of non-compliance, and CMS could fine providers up to $10,000 per instance for non-compliance with the federal regulation, it may be a while until the industry starts gaining clarity on the enforcement procedures.
Tolley noted that it is too early to discuss specific enforcement actions, as CMS is in process of coordinating provisions of the Act with the state AG offices. Massachusetts, for example, is expected to follow federal guidelines on enforcements.
Lack of clarity and available guidance has resulted in pending litigation, which is mostly related to administrative procedures, questioning CMS scope of authority.
Providers are concerned about the internal dispute resolutions (IDR) related to qualified payment amounts (QPA). Mr. Tolley's key recommendations for handling potential QPA disputes:
Have a well-organized strategy that supports the provider's position.
Document your process.
Build relevant quality reports around the services you identify as prone to disputes.
Your documentation file should include network agreement files and outcome measures to support reasonability of payments/rates.
Additionally, Ms. Confoey's shared best practices and lessons learned for other providers:
Best Practices:
Communicate generously and use collaborative approach in planning implementation activities. Include Legal, Compliance, Clinical Operations, and IT departments in crafting strategy and communications.
Identify gaps and challenges your organization is facing, and develop strategies for closing those gaps, such as automation at the time of labor shortages.
Remember to plan for training needs as well as internal and external communications.
Reach out to your peer group for brainstorming and best practices. For example, collaborate with other providers who use same electronic health records software to compare approaches.
Stay informed of changes and updates, guidance from hospital and provider associations.
Consider relevant patients' needs, and implement process changes critical from the patients' point of view – such as availability of documents in both electronic and paper formats, notifications at the time of scheduling, etc.
Lessons Learned:
Be aware of limited benefit plans – not necessarily out of network or covered by the NSB regulations, but these types of bills will surprise your patients.  Providers may want to inform patients that are covered under these plans as well
Consider excluding services where carve outs apply from the provider's out of network logic (example: behavioral health).
Review communication plans/workflows for out-of-network plans for low-income patients, as these scripts may be different.
Panelists agreed, timely communications, organized documentation and collaboration will help set organizations up for success.
Recent updates / Resources: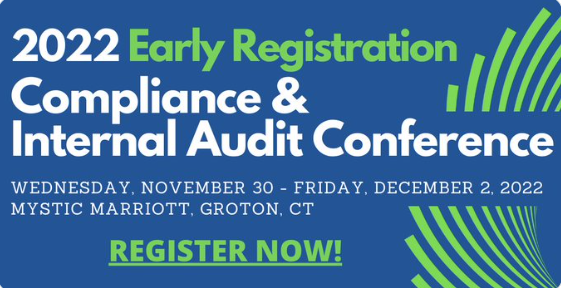 Don't forget to sign up for the HFMA Massachusetts-Rhode Island Chapter and New England Healthcare Internal Auditors (NEHIA) Compliance and Internal Audit Conference! The early-bird rate expires on September 16th. Register today: https://cvent.me/Wk0vwn