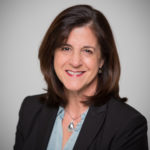 The chapter would like to congratulate Beverly Paige on completing the CHFP certification process. We recently checked in with Beverly to hear about her certification experience.
HFMA: Tell us a little bit about your background – did you come to health care finance from the health care side or the finance side?  What has your career trajectory been?
Beverly: I've worked in healthcare management my entire career, and have held positions on the payer side (customer service, account management and provider relations) as well as on the provider side (practice manager, contract manager, project manager). As a Managed Care contracting professional for more than 15 years, I was already a member of the Finance team.
HFMA: When did you first join HFMA?
Beverly: 2015
HFMA: When did you first consider getting certified?  How did you hear about certification?
Beverly: I first considered obtaining my CHFP in the summer of 2018. My position with my last employer had recently been eliminated, and I wanted to enhance my credentials as I entered the job market. I had heard about CHFP certification through communications received from HFMA and from the HFMA website.
HFMA: Describe the exam process for those who aren't familiar with it.
Beverly: There are 2 modules to the program:  The Business of Healthcare and Operational Excellence. Both modules are online, self-study programs, with study guides and sample exam questions provided by HFMA.  The Business of Healthcare module was very comprehensive, had multiple sections and took me about 23 hours to complete. I did not complete it all at once, but spread it out over a period of 3 or 4 weeks.  Once I completed the Business of Healthcare online program, I sat for the first exam, which took me about 90 minutes. After I passed the Business of Healthcare exam, I waited a few weeks off before I began the Operational Excellence module. I probably spent about 10 hours on the Operational Excellence module, and the exam itself took me approximately 2 ½ hours to complete. The exams were graded immediately after submission, so I knew my grades right away and that I had passed.
HFMA: What tips would you give someone looking to get certified?
Beverly: Take your time completing the online programs and review all of the material before you attempt the exams. Spend extra time on the topics that you are the least familiar with.
HFMA: What would you say to someone who is on the fence about getting certified?
Beverly: View the webinar to learn more about the process and the expected time commitment. You have 12 months to complete the program once you've registered, so you can work at your own pace and don't need to feel rushed. Also, if you don't pass an exam the first time, you can take it again after 30 days.
HFMA: How has certification helped you in your job/how do you anticipate it will help you in the future?
Beverly: I'm hopeful that adding the CHFP certification to my credentials will make me a stronger candidate as I continue my job search. If any HFMA members out there are looking for an experienced healthcare management professional, please view my LinkedIn profile and contact me if my qualifications are a match:  https://www.linkedin.com/in/beverlypaigemha/
Congratulations, Beverly, and thank you for sharing your thoughts with us.